More than 250 accredited testing services spanning a wide range of materials from concrete to soil to asphalt premixes are available from us. We also have a Structural Diagnostics department that specialises in diagnosis of existing buildings, soil investigation activities and non-destructive tests of both concrete and steel.
CASTconsult is an Independent Testing and Quality Centre supporting the construction, oil and gas, and shipyard industries in Malaysia. It is a SAC-SINGLAS accredited Testing Laboratory that leverages on the expertise of its main office in Singapore.
Founded by a team of experienced geotechnical engineers and skilled supervisors in the ground engineering and foundation field, we have 12 years of ground engineering construction experience in Malaysia.
Guided by our corporate values of Integrity, Reliability and Unity, we provide a multitude of ground engineering construction services. These services include micropiling, underpinning, slope stabilisation and custom ground improvement services to cater to the specific needs of our valued customers.
Along with the expertise from our Singapore and Indonesia offices, we also provide Heat Treatment testing and Non-Destructive Steel testing to support the Oil & Gas industry in the South-East Asian region.
CASTconsult is committed to our mission of providing reliable testing and inspection services for a safer environment.
CASTconsult Sdn Bhd
Trusted for Testing and Inspection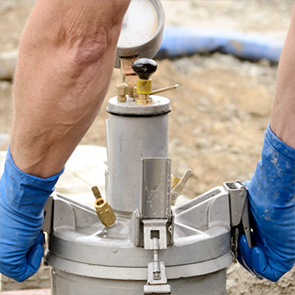 Concrete Cube Testing: Measurement of air content in fresh concrete